The 1911 Mastery Course with Rob Leatham and Jason Burton – Everything you need to know about your 1911 – from function to firing.

Course: A 3-day experience designed to optimize each client's proficiency and understanding of the 1911 platform, both on the range and in the workshop.

Rob Leatham and Jason Burton (of Heirloom Precision) – two of the industry's most-respected and successful 1911 professionals – team up to present an in-depth educational experience all about the time-tested 1911 platform.
Leatham and Burton have been passionate about the 1911 pistol for as long as each can remember. Their coming together for the 1911 Mastery Course will be an event like none other.
The varied backgrounds of Rob and Jason will help you to better understand the iconic 1911 pistol – from the firing cycle to physically breaking down the 1911, piece by piece, in the classroom — to the application and execution of a variety of shooting techniques and non-traditional philosophies on the range. Don't miss out on one of the 24 available slots for this unique opportunity.
Date: April 12, 13 & 14, 2019

Location: Casa Grande, AZ – Casa Grande Police Range

Event registration opens on Practiscore.com on Friday, February 8, 2019.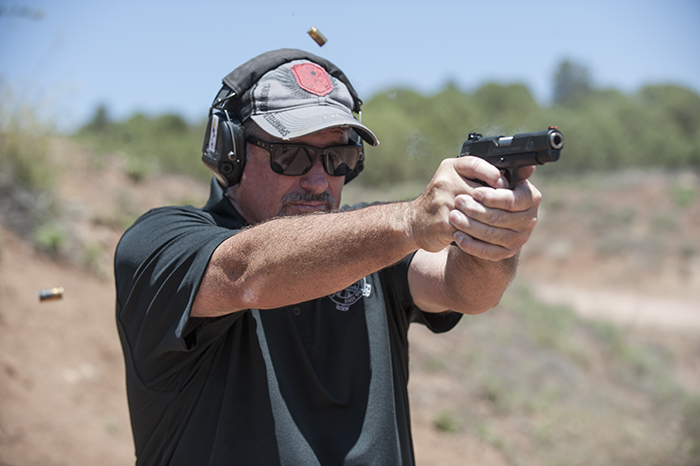 COURSE DETAILS
Training Days 1 & 2:
Range Time – Begins at 0800, where the clients will be taken through a logical approach to performance shooting.

Classroom Time – Following the lunch break, we move to the classroom for a presentation covering the operational theory and functional details of the 1911 pistol. Topics covered in the classroom session will include:
Firing cycle of 1911
Complete disassembly of pistol and discussion of each part and their function
Common malfunctions, diagnosis, parts breakages, and what to look for
Understanding basic extractor tuning and geometry
Proper spring weights for various calibers and sizes
Safety checks
Functional differences between Government Model / Commander Model / O-ACP
Magazines – what works and why
Reassembly of pistol
Proper maintenance and lubrication
Training Day 3:
Range Time – Begins at 0800. This full day of shooting will allow the clients to apply and further advance the techniques covered on day 1 & 2 via various target arrays and shooting challenges.
EQUIPMENT REQUIRED – RANGE:
A single stack 1911 pistol in the caliber and configuration of your choice. Please note: this is a general enrollment class with a wide variety of students. As such, it is our recommendation students NOT bring something ultra exotic or outside a normal 1911 that is suited for concealed carry, used in USPSA Single Stack or IDPA CDP / ESP division.
A backup 1911.
A quality belt – must be rigid enough to securely hold magazine pouches and holster securely in place. The belt should thread through the holster and magazine carriers, and preferably through belt loops.
A quality holster. Holster should be firmly attached to your belt somewhere on your strong side. Holster must completely cover the trigger, preventing access to or activation of the trigger while the gun is holstered.
HOLSTERS NOT ALLOWED:
— Holsters that utilize a trigger finger to manipulate any retention device,i.e. Blackhawk Serpa, ARE NOT ALLOWED.
— IWB holsters are NOT permitted unless you are experienced and well-practiced with this type of holster.
— Appendix holsters are not allowed.
— Nylon holsters are not allowed.
— Cross-draw holsters are not allowed.
— Shoulder / back holsters are not allowed.
— Ankle holsters are not allowed.
— Fanny pack holsters are not allowed.
Magazine Pouches / Carriers – 3 magazine pouches (minimum) mounted to belt on support side.
Minimum of 6 magazines.
Nominal 1500 rounds of factory ammunition.
Eye and ear protection, electronic ear protection is highly recommended.
Clothing appropriate for the weather.
General supplies, i.e., hat, sunscreen, water, snacks, backup batteries for ear protection.
EQUIPMENT REQUIRED – CLASSROOM:
Your UNLOADED 1911 pistols.
Pin punch for removing MSH pin (Brownells P/N: 080-850-000 is recommended).
1/16" punch (Brownells P/N: 827-525-780).
Bench block (recommended but not required, Brownells P/N: 080-000-493).
Screwdriver or Allen-wrench (as appropriate for your gun) for stock screws.
Screwdriver or Allen-wrench (as appropriate for your gun) for mag-catch lock.
Bushing wrench (as appropriate for your gun).
Cleaning mat or towel .
Basic cleaning tools – rod, bore brush, patches, cleaning brush, etc.
Pen or pencil & notebook.
CLIENT REQUIREMENTS:
Must be legally able to posses / own a firearm in the USA in accordance with ALL questions / requirements on the BATF-E Federal Form 4473.
Must be informed about laws and regulations regarding firearm ownership, use and transportation in the location of the class and any states / counties / cities, etc. you may travel through to attend the class.
Must be familiar, safe and proficient with your pistol.
Must be knowledgable about range safety, firearm safety, and firing line operations and demonstrate safe practices at ALL times during class. Any client deemed unsafe shall be asked to leave class immediately, and no refund shall be issued.
Must demonstrate universal firearm safety rules regarding muzzle direction and finger position at all times. Finger should only be in the trigger guard or on the trigger when engaging a target — At all other times, finger should be VISIBLY out of the trigger guard.
Must be practiced and proficient in drawing from a holster and reholstering. MUST able to safely draw firearm from holster and safely reholster firearm with the finger completely and VISIBLY outside of the trigger guard during these processes. At no time while drawing or re-holstering your pistol, should the muzzle point at any part of your support hand / arm. Any client deemed unsafe shall be asked to leave class immediately, and no refund shall be issued.
CLIENT EXPECTATIONS:
What do we (Rob and Jason) expect of our clients?

In all of our classes, SAFETY is priority one. When we are all safe, aware and in control, the entire class benefits.

Participating on a common firing line with multiple shooters DEMANDS that we all pay attention at all times and that we follow all safety rules.

There are no exceptions when it comes to safety – you will be DISQUALIFIED and sent home for any safety infraction, without refund.
For more information on our specific safety expectations, read on.
MUZZLE– Keep muzzle pointed in a safe direction at all times – straight downrange, toward targets, parallel to the ground. Never point the muzzle at any part of your own body. Be aware of your support hand during the drawing and holstering processes – keep it away from and behind the muzzle!
FINGER– Practice proper finger placement – finger should be visibly outside of the trigger guard at all times, until you are pointed at a target and ready to shoot. When done shooting, finger should immediately come out of the trigger guard.
COLD RANGE – We run a cold range. You may load and unload your gun ONLY on the firing line and ONLY upon the LOAD & MAKE READY / UNLOAD commands from your instructors / RSOs. Clients are allowed to have one (1) gun ONLY on body during class and said gun will be in your holster on the strong side of your body.
SAFETY AREA– We will establish a safety area for handling your unloaded gun unsupervised. You should arrive to class with an unloaded gun. You will put your UNLOADED gun in the holster and remove your UNLOADED gun from the holster ONLY in the safety area. Once your unloaded gun is holstered, it may NOT be handled unless you are:
1) on the firing line and under the command of the instructor / RSO or
2) in the safety area
CANCELLATION POLICIES:
More than 30 days before start of class: If you cancel more than 30 days prior to the class start date, notify us promptly to receive a 100% payment refund (less STRIPE Processing Fee).
Between 15 and 30 days before start of class – Cancelation notifications that occur between 30 days and 15 days prior to the class start date shall receive a 50% payment credit that may be applied to a future class. All class credits expire one year from issue.
0 to 14 days before start of class – Class cancelations within 2 weeks of the class start date are 100% non-refundable.